Document Storage in New Orleans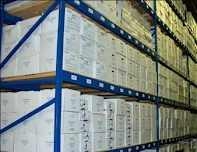 New Orleans document storage can be a tremendous asset or a potential threat- which is why New Orleans Scanning offers a secure offsite storage solution for any business throughout the city.
Offsite records storage is a very easy way to free up space in your office but still have access or critical documents or items you need to hold onto to adhere to specific retention times.
To learn more about the services offered by New Orleans Scanning, just give us a call at (504) 264-9410 or fill out the form to the left today.
Here are some things to look for in a New Orleans records storage provider:
Simplicity & Cost Savings in New Orleans
Are you using expensive office space to maintain your files and records? A records storage service will free up that space, giving you more room to breathe, add another employee, or organize the documents you need to keep on hand more efficiently, enhancing the productivity of employees who maintain your documents.
Safeguarding of Records
The security and confidentiality of important records and files should always be a business consideration. Offsite storage companies ensure your documents are protected from natural disasters, identity thieves, and ensure that you're in compliance with all the federal, state, and local privacy requirements. Hiring an offsite storage expert simplifies security issues significantly.
Climate Maintained Document Storage
In the humid south, it's important to ensure that any critical document is protected. Our secure New Orleans facility also provides temperature and humidity-controlled storage for all types of document formats, including paper, film, x-rays, microfilm, discs, and magnetic tapes. It ensures that the temperature and humidity are maintained- even during a power outage.
Legal Compliance in Louisiana
Too many businesses keep records longer than they should or dispose of records that they need to keep. Document retention policies, along with a document storage program, will allow you to set up plans for which files to retain and for how long. This also establishes how to dispose of records after they are no longer needed.
Disaster Protection & Planning
Major catastrophes can destroy years of important business documents. An offsite records storage location can protect your records from disasters. We make sure that you don't lose critical records.
Get Free Quotes on Records Storage In New Orleans Today!
New Orleans Scanning can help you manage your offsite document storage in New Orleans or any of the surrounding parishes. We're the experts in document storage and retrieval, and even offer emergency document recovery services whenever you need it. We're ready to handle your sensitive records to ensure your documents are protected from fire, theft, flood and corporate spies.
To learn more about the services offered by New Orleans Scanning, just give us a call at (504) 264-9410 or fill out the form to the left for a free quote today!